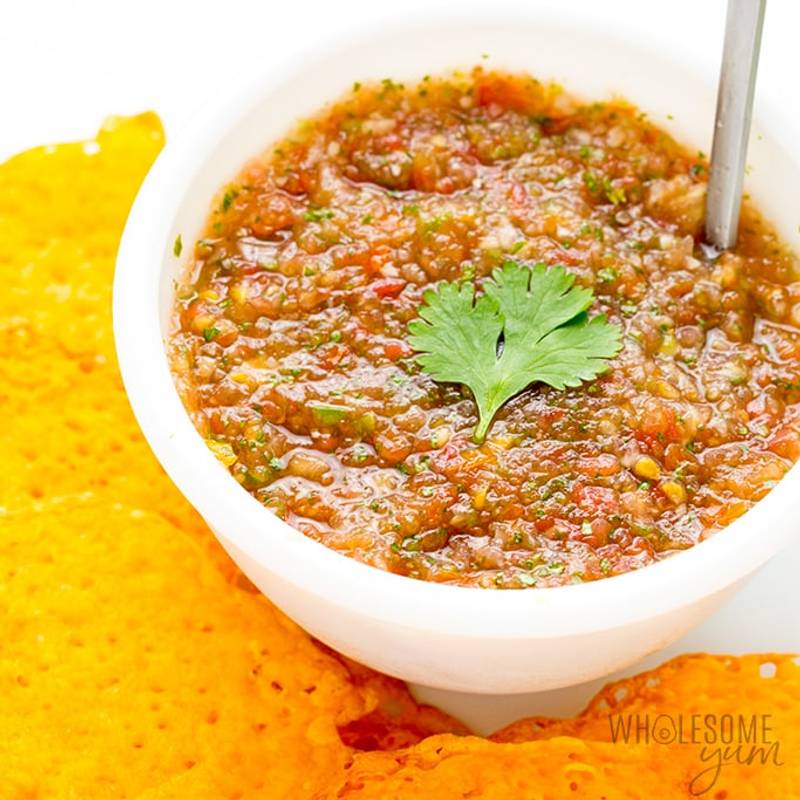 The Best Homemade Salsa with Fresh Tomatoes & Cilantro- 5 Ingredients (Keto Recipe Analysis)
This easy homemade salsais simple and fast. Just 5 ingredients & 5 minutes for the best homemade salsa with fresh tomatoes and cilantro!
Full recipe at www.wholesomeyum.com
Compliance
Based on the Keto way of eating preset. View more Keto recipes.
Daily Limits
net carbs
23g of 15g (155%)
Daily Goals
total fat
1.2g of 100g (1%)
Ingredients
keyboard_arrow_down
4 medium Tomatoes ((halved))
4 medium whole (2-3/5" dia) (492g) Tomatoes, Red, Ripe, Raw, Year Round Average

Daily Limits
net carbs
13g of 15g (88%)
Daily Goals
total fat
0.98g of 100g (1%)
keyboard_arrow_down
1 small Onion ((cut into large chunks))
1 small (70g) Onions, Raw

Daily Limits
net carbs
5.3g of 15g (36%)
Daily Goals
total fat
0.07g of 100g (0%)
keyboard_arrow_down
1 cup Cilantro
1 cup (16g) Coriander (cilantro) Leaves, Raw

Daily Limits
net carbs
0.14g of 15g (1%)
Daily Goals
total fat
0.08g of 100g (0%)
keyboard_arrow_down
1 medium Jalapeno ((seeds removed))
1 pepper (14g) Peppers, Jalapeno, Raw

Daily Limits
net carbs
0.52g of 15g (3%)
Daily Goals
total fat
0.05g of 100g (0%)
keyboard_arrow_down
3 cloves Garlic ((minced coarsely))
3 clove (9g) Garlic, Raw

Daily Limits
net carbs
2.8g of 15g (19%)
Daily Goals
total fat
0.04g of 100g (0%)
keyboard_arrow_down
1 tbsp Lime juice ((optional))
1 tbsp (15g) Lime Juice, Raw

Daily Limits
net carbs
1.2g of 15g (8%)
Daily Goals
total fat
0.01g of 100g (0%)
keyboard_arrow_down
1/4 tsp Sea salt
0.25 tsp (1.5g) Salt, Table