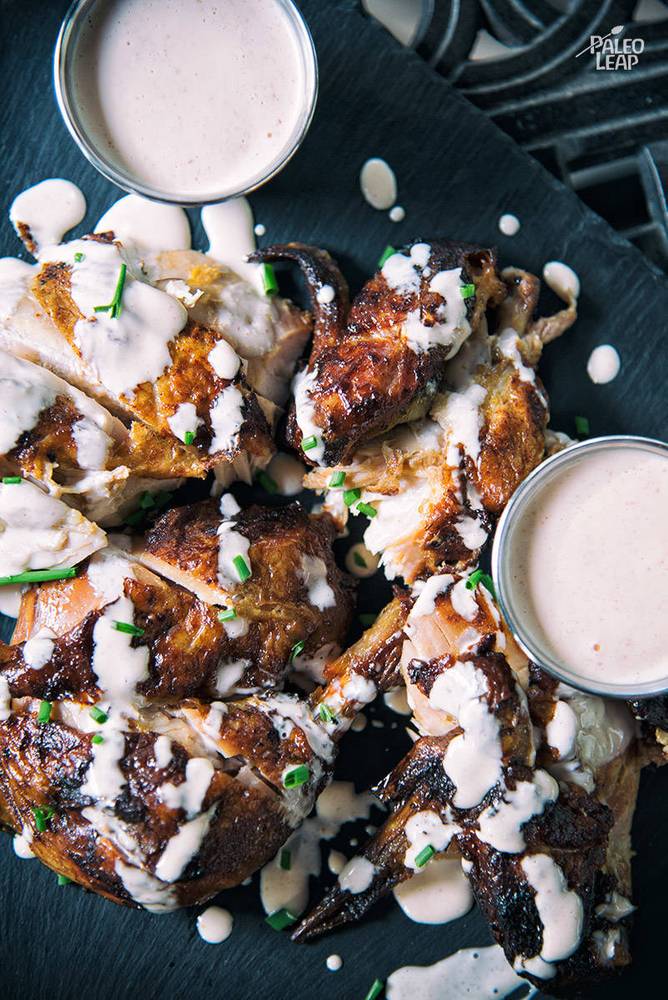 Alabama-Style White Barbecue Sauce (London As Diet Inspired Recipe Analysis)
Thinking of barbecuing? Try a new twist on barbecue sauce with this Alabama-white sauce variety.
Full recipe at paleoleap.com
Ingredients
keyboard_arrow_down
¼ cup apple cider vinegar
0.25 cup (60g) Vinegar, Cider

Daily Limits
starchestimated
0.32g of 5g (6%)
keyboard_arrow_down
2 tsp. fresh lemon juice
2 tsp (10g) Lemon Juice, Raw

Daily Goals
protein
0.04g of 100g (0%)
keyboard_arrow_down
2 tsp. Dijon mustard
2 tsp (10g) Dijon Mustard

Ingredients
WATER, MUSTARD SEEDS, VINEGAR, SALT, PRESERVATIVE (SODIUM BISULPHITE).
May not be a complete representation of the selected category.
keyboard_arrow_down
1 ½ cup homemade mayonnaise
1.5 cup (331g) Salad Dressing, Mayonnaise, Regular

Daily Limits
starchestimated
0g of 5g (0%)
keyboard_arrow_down
1 tsp. onion powder
1 tsp (2.4g) Spices, Onion Powder

Daily Limits
starchestimated
1.4g of 5g (27%)
Daily Goals
protein
0.25g of 100g (0%)
keyboard_arrow_down
1 tsp. garlic powder
1 tsp (3.1g) Spices, Garlic Powder

Daily Limits
starchestimated
1.9g of 5g (38%)
Daily Goals
protein
0.51g of 100g (1%)
keyboard_arrow_down
1/2 tsp. cayenne pepper
0.5 tsp (0.9g) Spices, Pepper, Red Or Cayenne

Daily Limits
starchestimated
0.17g of 5g (3%)
Daily Goals
protein
0.11g of 100g (0%)
keyboard_arrow_down
1/4 tsp Sea salt
0.25 tsp (1.5g) Salt, Table

keyboard_arrow_down
1/4 tsp freshly ground black pepper
0.25 tsp (0.57g) Spices, Pepper, Black

Daily Limits
starchestimated
0.22g of 5g (4%)
Daily Goals
protein
0.06g of 100g (0%)
keyboard_arrow_down
1 tbsp. raw honey
1 tbsp (21g) Honey

Daily Limits
starchestimated
0.02g of 5g (0%)
Daily Goals
protein
0.06g of 100g (0%)
keyboard_arrow_down
2 tsp. hot pepper sauce
2 tsp (9.4g) Sauce, Ready-to-serve, Pepper Or Hot

Daily Limits
starchestimated
0.02g of 5g (0%)
Daily Goals
protein
0.05g of 100g (0%)