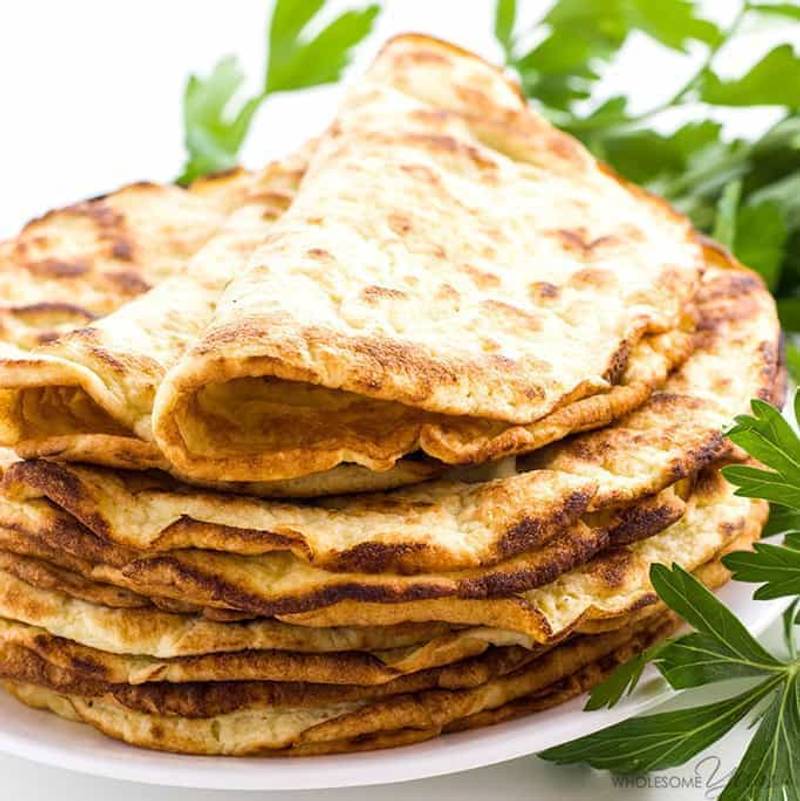 Low Carb Paleo Tortillas- 3 Ingredient Coconut Flour Wraps (Low Starch Gluten Free Recipe Analysis)
If you're looking for easy coconut flour recipes, try paleo low carb tortillas with coconut flour. Just 3 ingredients in these keto paleo coconut wraps!
Full recipe at www.wholesomeyum.com
Ingredients
keyboard_arrow_down
1/2 cup Coconut flour
0.5 cup (64g) Coconut Flour

Daily Limits
starchestimated
4g of 5g (81%)
Ingredients
ORGANIC COCONUT (CONTAINS COCONUT).
May not be a complete representation of the selected category.
keyboard_arrow_down
6 large Egg ((up to 7-8, see notes))
6 large (300g) Egg, Whole, Raw, Fresh

Daily Limits
starchestimated
1g of 5g (21%)
keyboard_arrow_down
1 1/4 cup Unsweetened almond milk ((up to 1 1/2 cup, see notes; can also use any milk of choice - use coconut milk beverage for nut-free))
1.3 cup (328g) Beverages, Almond Milk, Unsweetened, Shelf Stable

keyboard_arrow_down
3/4 tsp Sea salt ((optional))
0.75 tsp (4.5g) Salt, Table

keyboard_arrow_down
1/2 tsp Cumin ((optional))
0.5 tsp (1.1g) Spices, Cumin Seed

Daily Limits
starchestimated
0.33g of 5g (7%)
keyboard_arrow_down
1/2 tsp Paprika ((optional))
0.5 tsp (1.1g) Spices, Paprika

Daily Limits
starchestimated
0.1g of 5g (2%)