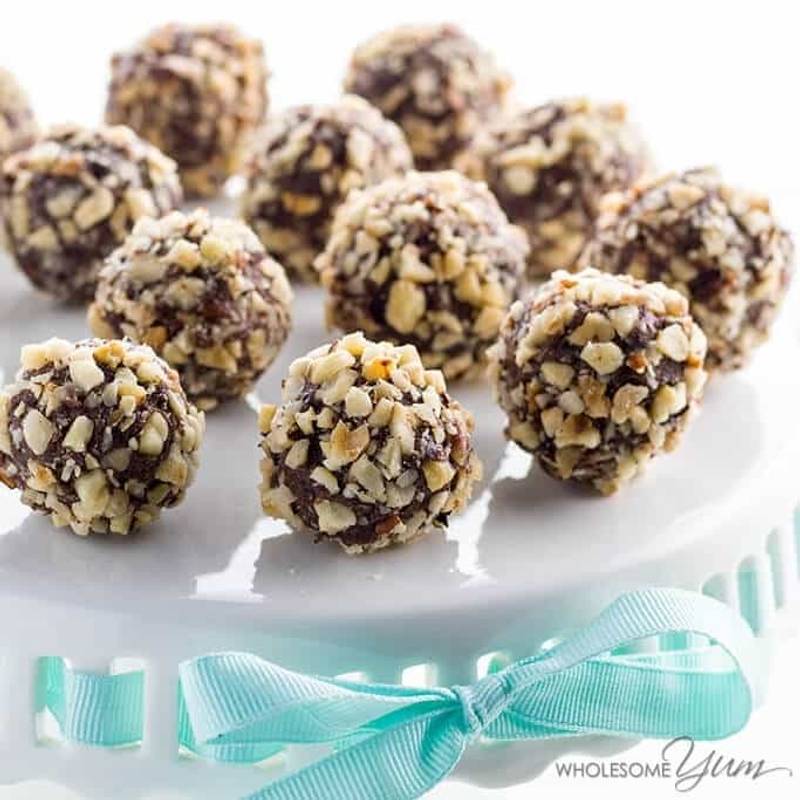 5-Ingredient Sugar-free Chocolate Nutella Truffles (Low Carb, Gluten-free) (Nightshade-Free Recipe Analysis)
A super easy Nutella truffles These sugar-free, gluten-free, & low carb chocolate truffles taste like Nutella & have a crunchy hazelnut coating.
Full recipe at www.wholesomeyum.com
Ingredients
keyboard_arrow_down
1/3 cup Coconut oil
0.33 cup (73g) Oil, Coconut

keyboard_arrow_down
1/2 cup Sugar-free Nutella spread ((or regular Nutella if not sugar-free, or any chocolate hazelnut spread of your choice)*)
0.5 cup (148g) Ferrero, Nutella, Hazelnut Spread With Cocoa

Ingredients
SUGAR, PALM OIL, HAZELNUTS, COCOA, SKIM MILK, WHEY (MILK), LECITHIN AS EMULSIFIER (SOY), VANILLIN: AN ARTIFICIAL FLAVOR.
May not be a complete representation of the selected category.
keyboard_arrow_down
1/2 cup Sugar-free dark chocolate chips ((or other chocolate chips of choice))
0.5 cup (66g) Baking Chocolate, Unsweetened, Squares

keyboard_arrow_down
1/3 cup Powdered erythritol
0.33 cup (64g) 100% Pure Erythritol Crystals

keyboard_arrow_down
1/2 tsp Vanilla extract ((optional)**)
0.5 tsp (2.1g) Vanilla Extract

keyboard_arrow_down
1/2 cup Hazelnuts ((chopped very finely)***)
0.5 cup (58g) Nuts, Hazelnuts Or Filberts