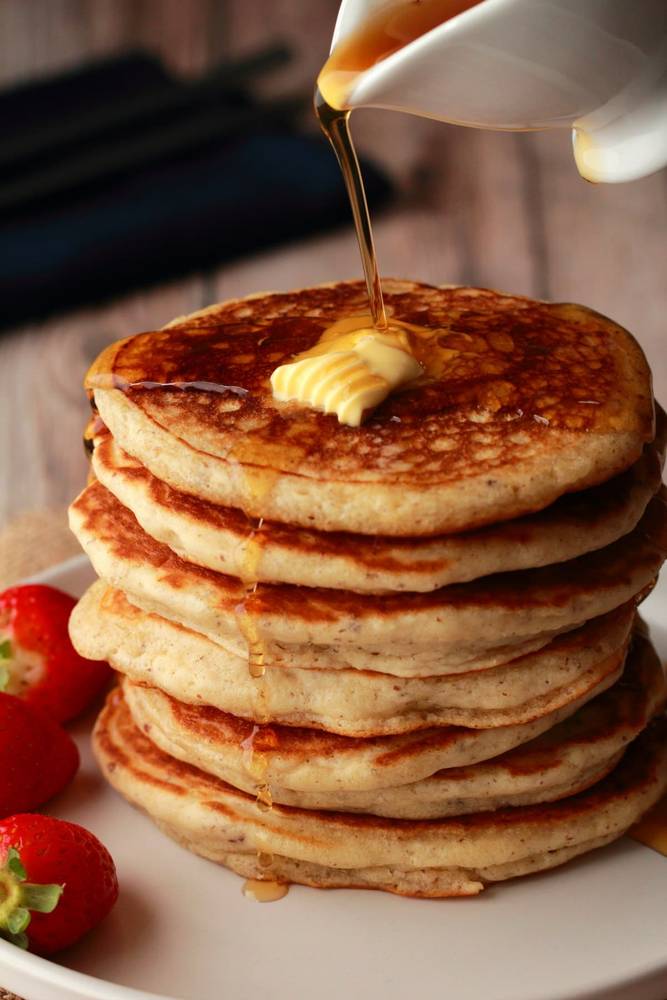 Vegan Pancakes (Nightshade-Free Recipe Analysis)
Light, fluffy and perfect vegan pancakes. These perfectly sweet 7-ingredient pancakes are super easy, ideal for breakfast and amazingly delicious topped with vegan butter and lots of syrup!
Full recipe at lovingitvegan.com
Ingredients
keyboard_arrow_down
1 and 1/4 cups (156g) All Purpose Flour
156 g (156g) All Purpose Flour

Ingredients
BLEACHED WHEAT FLOUR MALTED BARLEY FLOUR, NIACIN, IRON, THIAMINE MONONITRATE, RIBOFLAVIN, FOLIC ACID.
May not be a complete representation of the selected category.
keyboard_arrow_down
3 Tbsp Sugar
3 tbsp (38g) Sugars, Granulated

keyboard_arrow_down
1 Tbsp Baking Powder
1 tbsp (15g) Leavening Agents, Baking Powder, Low-sodium

keyboard_arrow_down
1/4 tsp Salt
0.25 tsp (1.5g) Salt, Table

keyboard_arrow_down
3/4 cup (180ml) Soy Milk (or any non-dairy milk)
0.75 cup (183g) Milk, Imitation, Non-soy

keyboard_arrow_down
1 Flax Egg
1 tbsp, whole (10g) Seeds, Flaxseed

keyboard_arrow_down
1 Tbsp Coconut Oil
1 tbsp (14g) Oil, Coconut