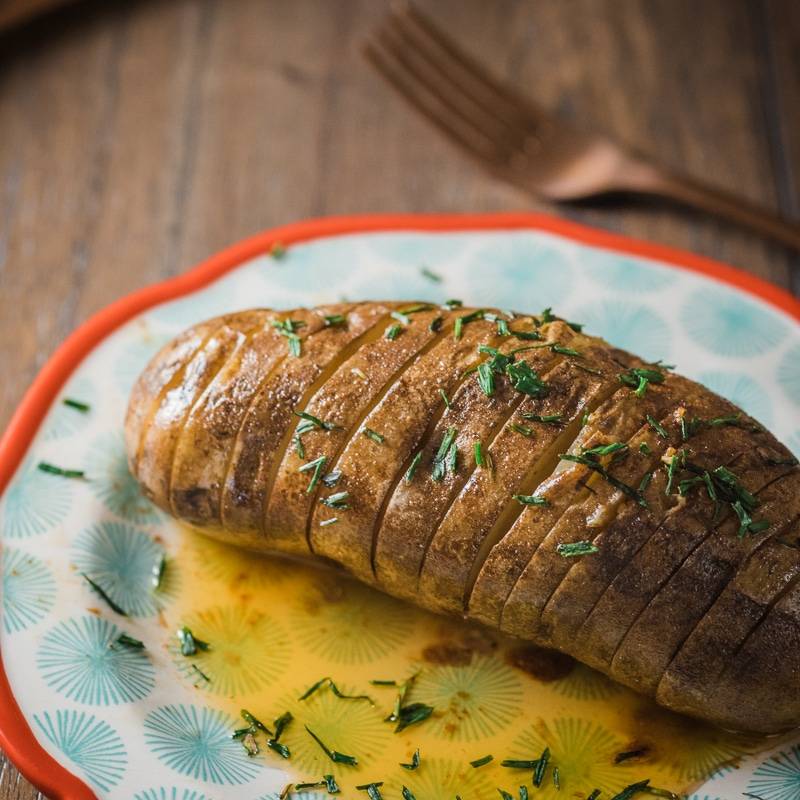 Slow Cooker Hasselback Potatoes with Honey-Sriracha Butter (Gluten-Free Recipe Analysis)
These Slow Cooker Hasselback Potatoes are the ultimate weeknight indulgence! Incredibly easy to make in the slow cooker or instant pot, and packed with flavor from homemade honey-sriracha butter.
Full recipe at www.deliciouseveryday.com
Ingredients
keyboard_arrow_down
3 russet potatoes (large)
3 POTATO (444g) Russet Potatoes

Ingredients
RUSSET POTATOES.
May not be a complete representation of the selected category.
keyboard_arrow_down
4 Tablespoons butter
4 tbsp (57g) Butter, Salted

keyboard_arrow_down
1 Tablespoon sriracha sauce
1 tbsp (19g) Sauce, Hot Chile, Sriracha, Tuong Ot Sriracha

keyboard_arrow_down
1 Tablespoon honey
1 tbsp (21g) Honey

keyboard_arrow_down
1/4 tsp salt
0.25 tsp (1.5g) Salt, Table

keyboard_arrow_down
1/4 tsp pepper (to taste)
0.25 tsp (0.57g) Spices, Pepper, Black

keyboard_arrow_down
2 Tablespoons chives, chopped
2 tbsp (6g) Chives, Raw

keyboard_arrow_down
1 Tablespoon scallions, chopped (optional)
1 tbsp (6.3g) Onions, Spring Or Scallions (includes Tops And Bulb), Raw