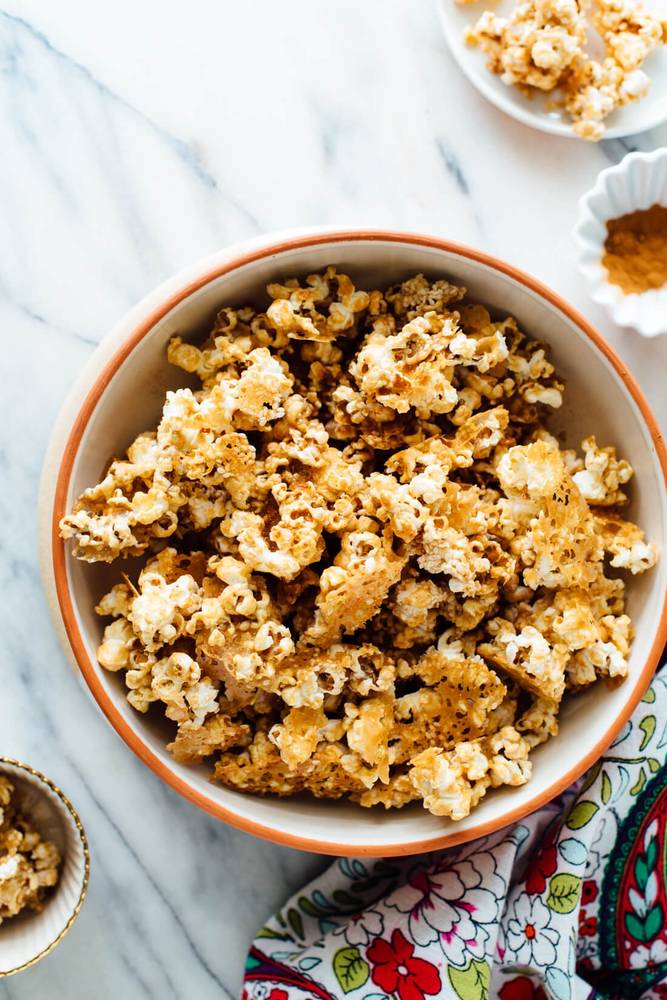 Sesame Caramel Corn (Gluten-Free Nightshade-Free Vegan Recipe Analysis)
This naturally sweetened caramel popcornis incredible! It's made with tahini, sesame seeds and maple syrup, and tastes a little like halva. This recipe is conveniently vegan and nut free, and yields about 6 cups.
Full recipe at cookieandkate.com
Ingredients
keyboard_arrow_down
⅓ cup popcorn kernels
0.33 cup (64g) Popcorn Kernels

Ingredients
POPCORN.
May not be a complete representation of the selected category.
keyboard_arrow_down
1 tablespoon coconut oil or extra-virgin olive oil
1 tbsp (14g) Oil, Olive, Salad Or Cooking

keyboard_arrow_down
6 cups popped popcorn
6 cup (48g) Snacks, Popcorn, Air-popped

keyboard_arrow_down
1/2 cup real maple syrup
0.5 cup (160g) Syrups, Maple

keyboard_arrow_down
3 tablespoons tahini
3 tbsp (42g) Sesame Tahini

keyboard_arrow_down
1 1/2 teaspoons vanilla extract
1.5 tsp (6.3g) Vanilla Extract

keyboard_arrow_down
1/4 teaspoon fine sea salt
0.25 tsp (1.5g) Salt, Table

keyboard_arrow_down
1/4 teaspoon cinnamon, plus more for sprinkling
0.25 tsp (0.65g) Spices, Cinnamon, Ground

keyboard_arrow_down
2 tablespoons sesame seeds
2 tbsp (19g) Seeds, Sesame Seed Kernels, Dried (decorticated)