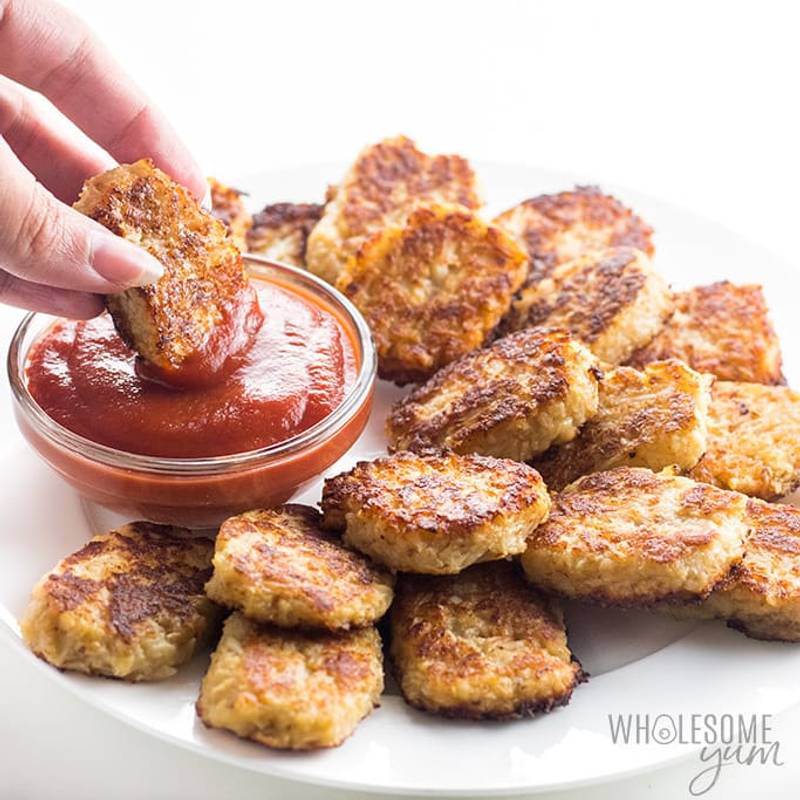 Cheesy Low Carb Cauliflower Tots- 4 Ingredients (Keto Recipe Analysis)
This easy, cheesy cauliflower totsneeds just 4 ingredients! Low carb and keto cauliflower tater tots with sugar-free ketchup make the perfect healthy comfort food.
Full recipe at www.wholesomeyum.com
Compliance
Based on the Keto way of eating preset. View more Keto recipes.
Daily Limits
net carbs
22g of 15g (146%)
Daily Goals
total fat
98g of 100g (98%)
Ingredients
keyboard_arrow_down
1 1/2 lb Cauliflower ((riced, measured after ricing, about 1 head))
1.5 lb (680g) Riced Cauliflower

Daily Limits
net carbs
16g of 15g (105%)
Ingredients
CAULIFLOWER, SALT.
May not be a complete representation of the selected category.
keyboard_arrow_down
1/4 cup Avocado oil ((or any oil; divided))
0.25 cup (56g) Oil, Avocado

Daily Goals
total fat
56g of 100g (56%)
keyboard_arrow_down
1 large Egg
1 large (50g) Egg, Whole, Raw, Fresh

Daily Limits
net carbs
0.36g of 15g (2%)
Daily Goals
total fat
4.8g of 100g (5%)
keyboard_arrow_down
1 1/2 cup Mozzarella
1.5 cup (168g) Cheese, Mozzarella, Whole Milk

Daily Goals
total fat
37g of 100g (37%)
keyboard_arrow_down
2 cloves Garlic ((minced, optional))
2 clove (6g) Garlic, Raw

Daily Limits
net carbs
1.9g of 15g (12%)
Daily Goals
total fat
0.03g of 100g (0%)
keyboard_arrow_down
3/4 tsp Sea salt
0.75 tsp (4.5g) Salt, Table