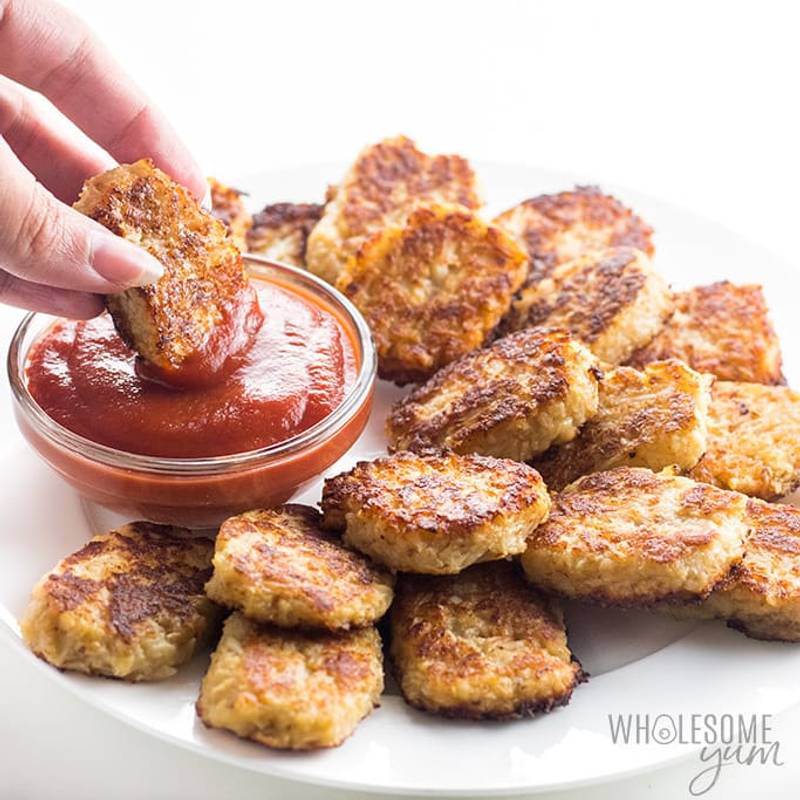 Cheesy Low Carb Cauliflower Tots- 4 Ingredients (Nightshade-Free Recipe Analysis)
This easy, cheesy cauliflower totsneeds just 4 ingredients! Low carb and keto cauliflower tater tots with sugar-free ketchup make the perfect healthy comfort food.
Full recipe at www.wholesomeyum.com
Ingredients
keyboard_arrow_down
1 1/2 lb Cauliflower ((riced, measured after ricing, about 1 head))
1.5 lb (680g) Riced Cauliflower

Ingredients
CAULIFLOWER, SALT.
May not be a complete representation of the selected category.
keyboard_arrow_down
1/4 cup Avocado oil ((or any oil; divided))
0.25 cup (56g) Oil, Avocado

keyboard_arrow_down
1 large Egg
1 large (50g) Egg, Whole, Raw, Fresh

keyboard_arrow_down
1 1/2 cup Mozzarella
1.5 cup (168g) Cheese, Mozzarella, Whole Milk

keyboard_arrow_down
2 cloves Garlic ((minced, optional))
2 clove (6g) Garlic, Raw

keyboard_arrow_down
3/4 tsp Sea salt
0.75 tsp (4.5g) Salt, Table