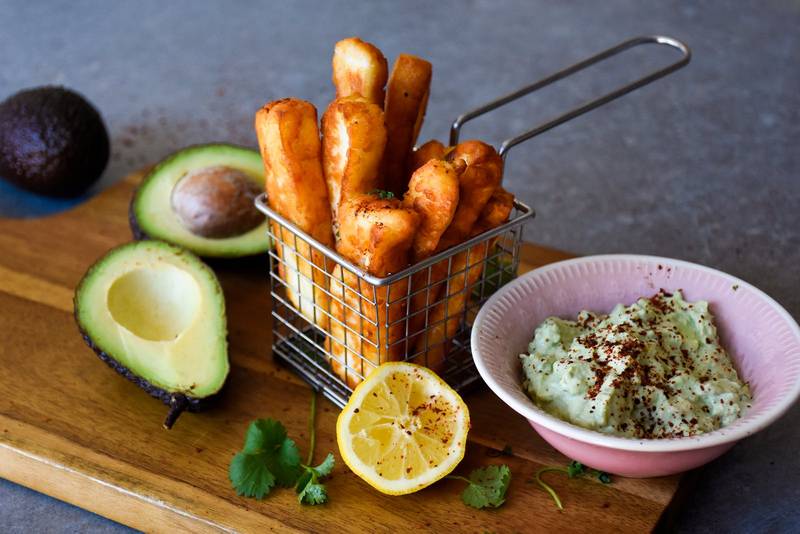 Halloumi fries with avocado dip (Low Starch Low Sugar Recipe Analysis)
Forget everything you think you know about halloumi cheese and let us introduce you to an improved, crunchier and crispier version of this delicacy. Salty halloumi fries with an irresistibly creamy avocado dip. A divine low-carb snack or a full meal? You decide!
Full recipe at www.dietdoctor.com
Ingredients
keyboard_arrow_down
6 oz. halloumi cheese
6 oz (170g) Halloumi Cheese

Daily Limits
total sugar
0g of 10g (0%)
Ingredients
Pasturized Cow, Goats And Sheeps Milk, Salt, Non-animal Rennet.
May not be a complete representation of the selected category.
keyboard_arrow_down
2 tbsp oil for frying*
2 tbsp (27g) Oil, Olive, Salad Or Cooking

Daily Limits
total sugar
0g of 10g (0%)
keyboard_arrow_down
1 avocado
1 avocado, NS as to Florida or California (201g) Avocados, Raw, All Commercial Varieties

Daily Limits
total sugar
1.3g of 10g (13%)
keyboard_arrow_down
1/2 cup sour cream
0.5 cup (96g) Cream, Sour, Cultured

Daily Limits
total sugar
3.3g of 10g (33%)
keyboard_arrow_down
1 garlic clove, pressed
1 clove (3g) Garlic, Raw

Daily Limits
total sugar
0.03g of 10g (0%)
starchestimated
0.9g of 5g (18%)
keyboard_arrow_down
1 tsp hot sauce or tabasco
1 tsp (4.7g) Sauce, Ready-to-serve, Pepper, Tabasco

Daily Limits
total sugar
0.006g of 10g (0%)
starchestimated
0.003g of 5g (0%)
keyboard_arrow_down
1 tsp lemon juice
1 tsp (5.1g) Lemon Juice, Raw

Daily Limits
total sugar
0.13g of 10g (1%)
keyboard_arrow_down
1 tbsp fresh cilantro, chopped
1 tbsp (1g) Coriander (cilantro) Leaves, Raw

Daily Limits
total sugar
0.009g of 10g (0%)
starchestimated
0g of 5g (0%)
keyboard_arrow_down
1/4 tsp salt
0.25 tsp (1.5g) Salt, Table

Daily Limits
total sugar
0g of 10g (0%)
keyboard_arrow_down
1/4 tsp ground black pepper
0.25 tsp (0.57g) Spices, Pepper, Black

Daily Limits
total sugar
0.004g of 10g (0%)
starchestimated
0.22g of 5g (4%)