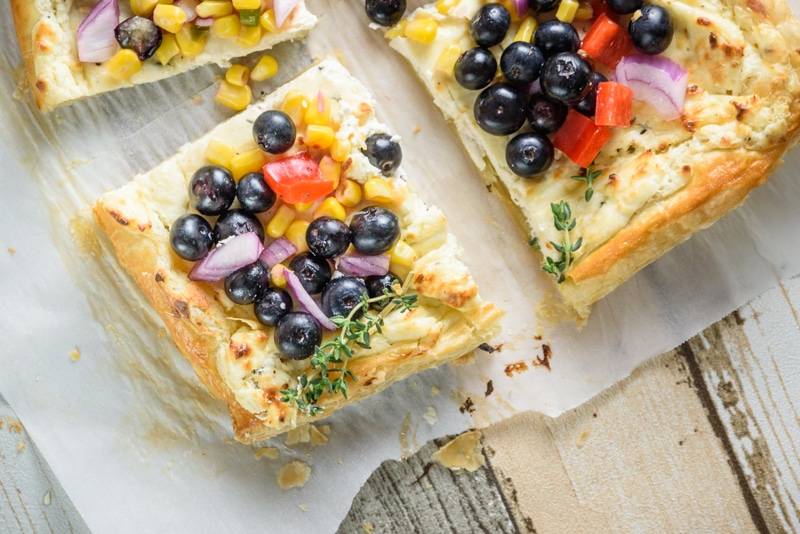 Goat Cheese Tart with Blueberry-Sweet Corn Salsa (Gluten-Free Recipe Analysis)
This rich, creamy goat cheese tart is topped with fresh blueberry and sweet corn salsa.
Full recipe at www.deliciouseveryday.com
Ingredients
keyboard_arrow_down
1 sheet puff pastry (frozen, 8.5oz)
8.5 oz (241g) Puff Pastry Sheets

Ingredients
POTATO STARCH, BUTTER (SWEET CREAM, NATURAL FLAVORINGS), WATER, NON GMO CANOLA OIL, EGGS, SUGAR, BAKING POWDER, SALT, XANTHAN GUM, FLAXSEED MEAL, WHEY PROTEIN CONCENTRATE, INULIN (CHICKORY ROOT), GUAR GUM, BAKING SODA, CITRIC ACID, ANNATTO.
May not be a complete representation of the selected category.
keyboard_arrow_down
1 egg white (separated)
1 large (33g) Egg, White, Raw, Fresh

keyboard_arrow_down
6 oz cream cheese
6 oz (170g) Cheese, Cream

keyboard_arrow_down
4 oz goat cheese
4 oz (113g) Cheese, Goat, Hard Type

keyboard_arrow_down
2 cups blueberries (fresh)
2 cup (296g) Blueberries, Raw

keyboard_arrow_down
1 tbsp thyme leaves
1 tbsp (2.4g) Thyme, Fresh

keyboard_arrow_down
1 ear sweet corn (fresh)
1 ear, medium (6-3/4" to 7-1/2" long) yields (102g) Corn, Sweet, Yellow, Raw

keyboard_arrow_down
1/2 red bell pepper (chopped into 1/4 pieces)
0.25 medium (approx 2-3/4" long, 2-1/2 dia.) (30g) Peppers, Sweet, Red, Raw

keyboard_arrow_down
1/2 red onion (thinly sliced)
0.5 medium (2-1/2" dia) (55g) Onions, Raw

keyboard_arrow_down
1/2 jalapeno pepper (minced)
0.5 pepper (7g) Peppers, Jalapeno, Raw

keyboard_arrow_down
1 lime
1 fruit (2" dia) (67g) Limes, Raw

keyboard_arrow_down
1/4 tsp salt
0.25 tsp (1.5g) Salt, Table

keyboard_arrow_down
1/4 tsp pepper (to taste)
0.25 tsp (0.57g) Spices, Pepper, Black