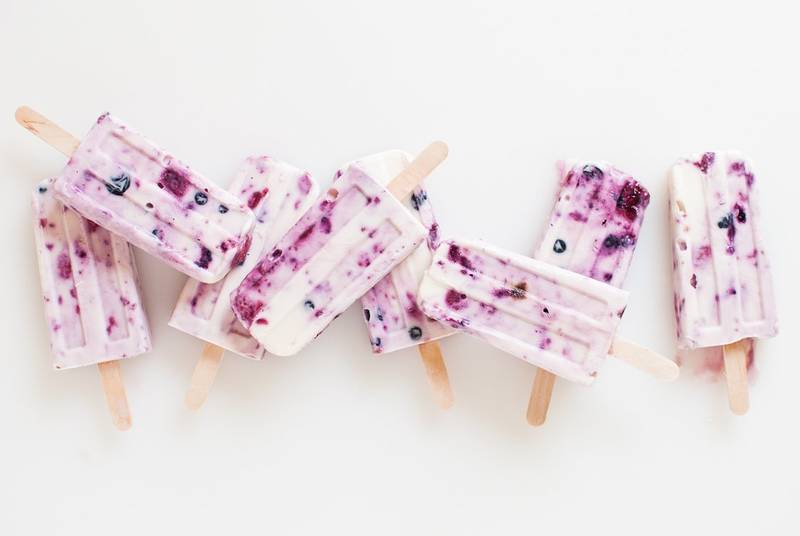 Roasted Berry and Honey Yogurt Pops (Low Starch Gluten Free Recipe Analysis)
Super creamy Greek yogurt popsicles swirled with jammy, roasted raspberries and blueberries. Sweetened with honey, these are all natural, delicious summer treats.
Full recipe at cookieandkate.com
Ingredients
keyboard_arrow_down
12 ounces (two small containers) small berries, like blueberries and raspberries
12 ounces (340g) Blueberries, Raw

keyboard_arrow_down
2 teaspoons sugar (preferably turbinado sugar), optional
2 tsp (9.2g) Sugar, Turbinado

Daily Limits
starchestimated
0.06g+ of 5g (1%+)
keyboard_arrow_down
1/4 tsp Dash of sea salt
0.5 g (0.5g) Salt, Table

keyboard_arrow_down
2 tablespoons + 1/4 cup honey (to taste)
18 tsp (127g) Honey

Daily Limits
starchestimated
0.1g of 5g (2%)
keyboard_arrow_down
2 cups whole Greek yogurt (I used Fage)
2 cup (454g) Fage, Nonfat Greek Strained Yogurt

Daily Limits
starchestimated
0g of 5g (0%)
Ingredients
GRADE A PASTEURIZED SKIMMED MILK, LIVE ACTIVE YOGURT CULTURES (L. BULGARICUS, S. THERMOPHILUS, L. ACIDOPHILUS, BIFIDUS, L. CASEI).
May not be a complete representation of the selected category.
keyboard_arrow_down
1/2 small lemon, juiced
0.5 lemon yields (24g) Lemon Juice, Raw