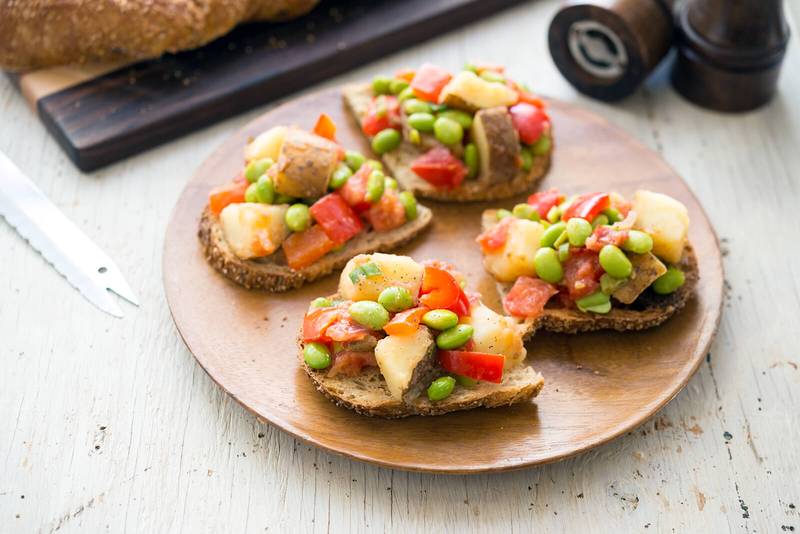 Potato-Edamame Hash on Toast (Swank Diet Inspired Recipe Analysis)
This colorful and comforting hash-on-toast veganmakes a memorable breakfast and could easily serve as a light supper on a busy night.
Full recipe at www.forksoverknives.com
Ingredients
keyboard_arrow_down
1 pound russet potatoes, cut into ¾-inch pieces
1 pound (454g) Russet Potatoes

Daily Limits
saturated fat
0g of 3g (0%)
Ingredients
RUSSET POTATOES.
May not be a complete representation of the selected category.
keyboard_arrow_down
¼ cup finely chopped shallots
0.25 cup (40g) Shallots, Raw

Daily Limits
saturated fat
0.007g of 3g (0%)
keyboard_arrow_down
2 cups frozen edamame, thawed
2 cup (236g) Edamame, Frozen, Unprepared

keyboard_arrow_down
1 cup coarsely chopped red bell pepper
1 cup (149g) Peppers, Sweet, Red, Raw

Daily Limits
saturated fat
0.09g of 3g (3%)
keyboard_arrow_down
12 slices whole grain bread, toasted
12 slice regular (312g) Bread, Multi-grain (includes Whole-grain)

Daily Limits
saturated fat
2.7g of 3g (91%)
keyboard_arrow_down
1/4 tsp Sea salt
0.25 tsp (1.5g) Salt, Table

Daily Limits
saturated fat
0g of 3g (0%)
keyboard_arrow_down
1/4 tsp black pepper, to taste
0.25 tsp (0.57g) Spices, Pepper, Black

Daily Limits
saturated fat
0.008g of 3g (0%)
keyboard_arrow_down
½ teaspoon garlic powder
0.5 tsp (1.6g) Spices, Garlic Powder

Daily Limits
saturated fat
0.004g of 3g (0%)
keyboard_arrow_down
1 cup coarsely chopped tomatoes
1 cup (149g) Tomatoes, Red, Ripe, Raw, Year Round Average

Daily Limits
saturated fat
0.04g of 3g (1%)