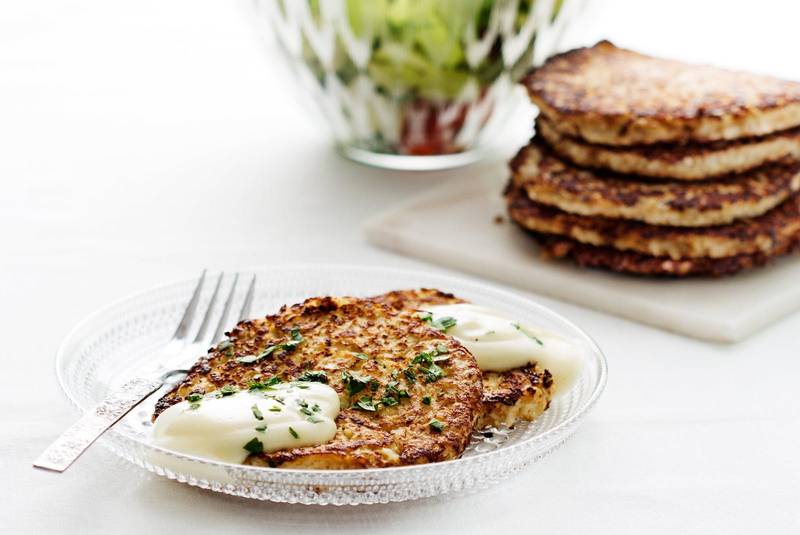 Low-carb cauliflower hash browns (Keto Recipe Analysis)
These rich, buttery, low-carb pancakes totally wow hash brown fans. They're delicious by themselves or as a side dish. Try them with homemade mayonnaise or seasoned butter. Mmmmm… Melt in your mouth goodness awaits!
Full recipe at www.dietdoctor.com
Compliance
Based on the Keto way of eating preset. View more Keto recipes.
Daily Limits
net carbs
18g of 15g (119%)
Daily Goals
total fat
106g of 100g (106%)
Ingredients
keyboard_arrow_down
15 oz. cauliflower
15 oz (425g) Cauliflower, Raw

Daily Limits
net carbs
13g of 15g (84%)
Daily Goals
total fat
1.2g of 100g (1%)
keyboard_arrow_down
3 eggs
3 medium (132g) Egg, Whole, Raw, Fresh

Daily Limits
net carbs
0.95g of 15g (6%)
Daily Goals
total fat
13g of 100g (13%)
keyboard_arrow_down
1/2 yellow onion, grated
0.5 medium (2-1/2" dia) (55g) Onions, Raw

Daily Limits
net carbs
4.2g of 15g (28%)
Daily Goals
total fat
0.06g of 100g (0%)
keyboard_arrow_down
1 tsp salt
1 tsp (6g) Salt, Table

keyboard_arrow_down
2 pinches pepper
1 g (1g) Pepper, Banana, Raw

Daily Limits
net carbs
0.02g of 15g (0%)
Daily Goals
total fat
0.005g of 100g (0%)
keyboard_arrow_down
4 oz. butter, for frying
4 oz (113g) Butter, Salted

Daily Limits
net carbs
0.07g of 15g (0%)
Daily Goals
total fat
92g of 100g (92%)