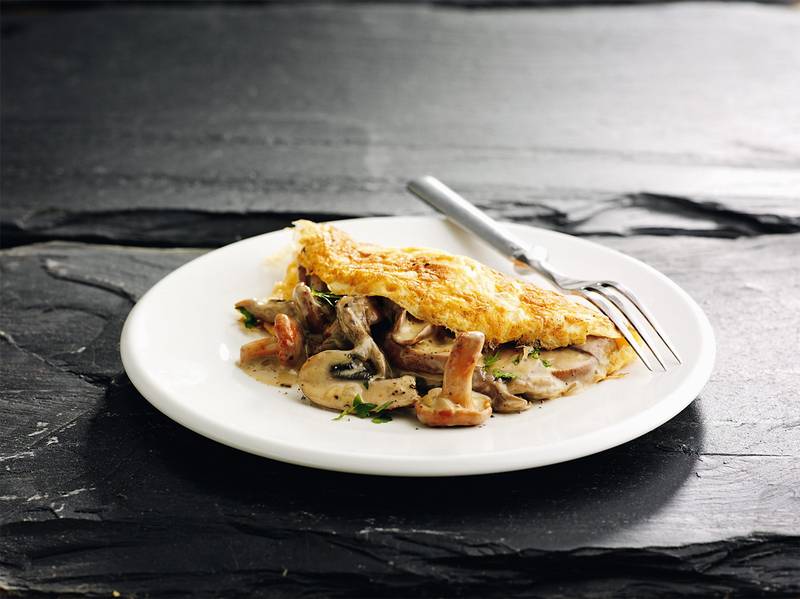 Keto mushroom omelet (Keto Recipe Analysis)
Looking for a quick and easy way to start your day? This hearty omelet is super healthy, and just takes a few minutes to make! Fresh mushrooms make a delicious filling. Enjoy this keto meal anytime — breakfast, lunch or dinner!
Full recipe at www.dietdoctor.com
Compliance
Based on the Keto way of eating preset. View more Keto recipes.
Daily Limits
net carbs
10g of 15g (67%)
Daily Goals
total fat
87g of 100g (87%)
Ingredients
keyboard_arrow_down
3 eggs
3 medium (132g) Egg, Whole, Raw, Fresh

Daily Limits
net carbs
1.9g of 15g (13%)
Daily Goals
total fat
25g of 100g (25%)
keyboard_arrow_down
1 oz. butter, for frying
1 oz (28g) Butter, Salted

Daily Limits
net carbs
0.03g of 15g (0%)
Daily Goals
total fat
46g of 100g (46%)
keyboard_arrow_down
1 oz. shredded cheese
1 oz (28g) Cheese, Parmesan, Shredded

Daily Limits
net carbs
1.9g of 15g (13%)
Daily Goals
total fat
16g of 100g (16%)
keyboard_arrow_down
1/5 yellow onion
0.2 medium (2-1/2" dia) (22g) Onions, Raw

Daily Limits
net carbs
3.4g of 15g (22%)
Daily Goals
total fat
0.04g of 100g (0%)
keyboard_arrow_down
3 mushrooms
3 medium (54g) Mushrooms, White, Raw

Daily Limits
net carbs
2.4g of 15g (16%)
Daily Goals
total fat
0.37g of 100g (0%)
keyboard_arrow_down
1/4 tsp salt
0.25 tsp (1.5g) Salt, Table

keyboard_arrow_down
1/4 tsp pepper
0.25 tsp (0.57g) Spices, Pepper, Black

Daily Limits
net carbs
0.44g of 15g (3%)
Daily Goals
total fat
0.04g of 100g (0%)