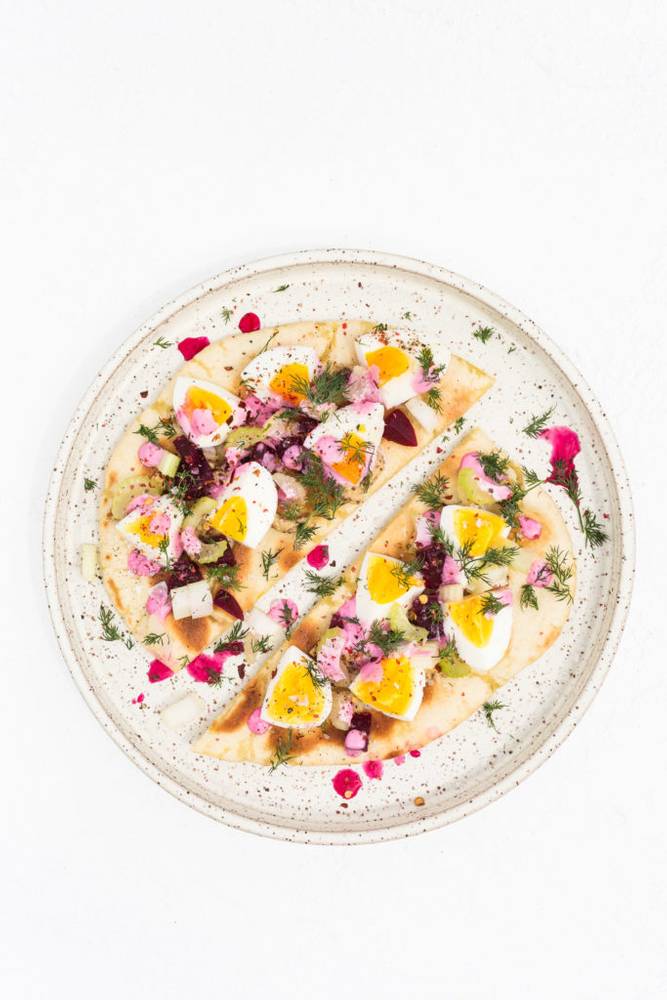 Egg Salad with Pink Mayo & Pickled Beets (Vegan Recipe Analysis)
This Egg Saladwith Pink Mayo and Pickled Beets recipe is the ideal lunch for one. It's quick to whip up (we are talking under 15 minutes) and full of protein to keep you going all afternoon long.
Full recipe at www.vegetarianventures.com
Ingredients
keyboard_arrow_down
2-3 eggs (depending on how hungry you are)
2 pepper (54g) Peppers, Hungarian, Raw

keyboard_arrow_down
2 Tbsp mayo
2 tbsp (28g) Mayo

Ingredients
NON-GMO EXPELLER PRESSED CANOLA OIL, FILTERED WATER, LEMON JUICE, GARLIC, WHITE VINEGAR, 2% OR LESS OF THE FOLLOWING: ORGANIC SUGAR, SALT, PEA PROTEIN, SPICES, MODIFIED FOOD STARCH, BETA-CAROTENE, CALCIUM DISODIUM EDTA (TO PRESERVE FRESHNESS).
May not be a complete representation of the selected category.
keyboard_arrow_down
1/2 - 1 Tsp beet juice (+ a little more for garnish)
0.5 tsp (1.4g) Beets, Raw

keyboard_arrow_down
1 pita (toasted)
1 pita, large (6-1/2" dia) (60g) Bread, Pita, White, Enriched

keyboard_arrow_down
2 pickled beets (chopped)
2 beet (2" dia) (164g) Beets, Raw

keyboard_arrow_down
2 celery ribs (chopped)
2 stalk, medium (7-1/2" - 8" long) (80g) Celery, Raw

keyboard_arrow_down
1 Tbsp chopped dill
1 tbsp (0.56g) Dill Weed, Fresh

keyboard_arrow_down
1/4 tsp Salt / Pepper (to taste)
0.25 tsp (0.65g) Pepper, Banana, Raw