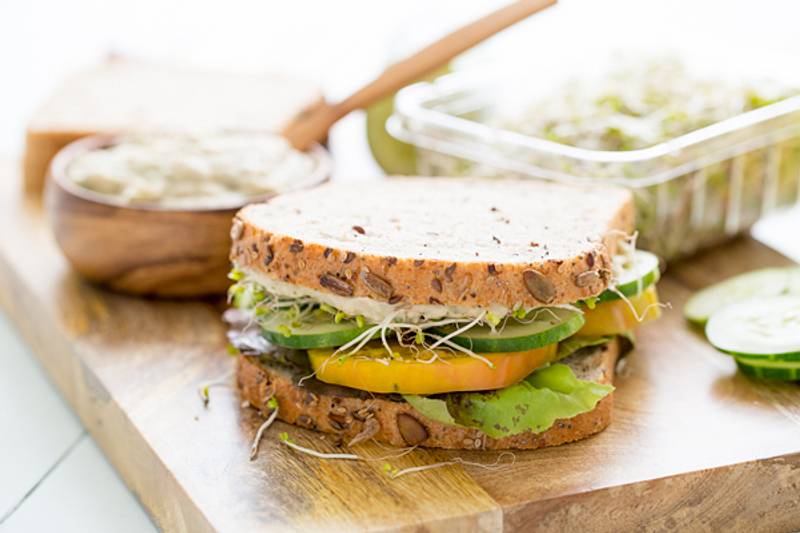 Basil White Bean Dip + Sandwich Spread (Keto Recipe Analysis)
A flavorful dip or sandwich spread made with cannellini beans, basil, and garlic.
Full recipe at ohmyveggies.com
Compliance
Based on the Keto way of eating preset. View more Keto recipes.
Daily Limits
net carbs
26g of 15g (175%)
Daily Goals
total fat
27g of 100g (27%)
Ingredients
keyboard_arrow_down
1 1/2 cups cooked cannellini beans (or about 1 can), rinsed
1.5 cup (300g) Cannellini Beans

Daily Limits
net carbs
24g of 15g (160%)
Ingredients
BEANS, WATER, SALT.
May not be a complete representation of the selected category.
keyboard_arrow_down
1/4 cup packed fresh basil leaves
0.25 cup (11g) Basil, Fresh

Daily Limits
net carbs
0.11g of 15g (1%)
Daily Goals
total fat
0.07g of 100g (0%)
keyboard_arrow_down
1 clove garlic
1 clove (3g) Garlic, Raw

Daily Limits
net carbs
0.93g of 15g (6%)
Daily Goals
total fat
0.01g of 100g (0%)
keyboard_arrow_down
2 tablespoons extra-virgin olive oil
2 tbsp (27g) Oil, Olive, Salad Or Cooking

Daily Goals
total fat
27g of 100g (27%)
keyboard_arrow_down
1 tablespoon fresh lemon juice
1 tbsp (15g) Lemon Juice, Raw

Daily Goals
total fat
0.04g of 100g (0%)
keyboard_arrow_down
1/4 tsp Salt
0.25 tsp (1.5g) Salt, Table

keyboard_arrow_down
1/4 tsp pepper to taste
0.25 tsp (0.57g) Spices, Pepper, Black

Daily Limits
net carbs
0.22g of 15g (1%)
Daily Goals
total fat
0.02g of 100g (0%)