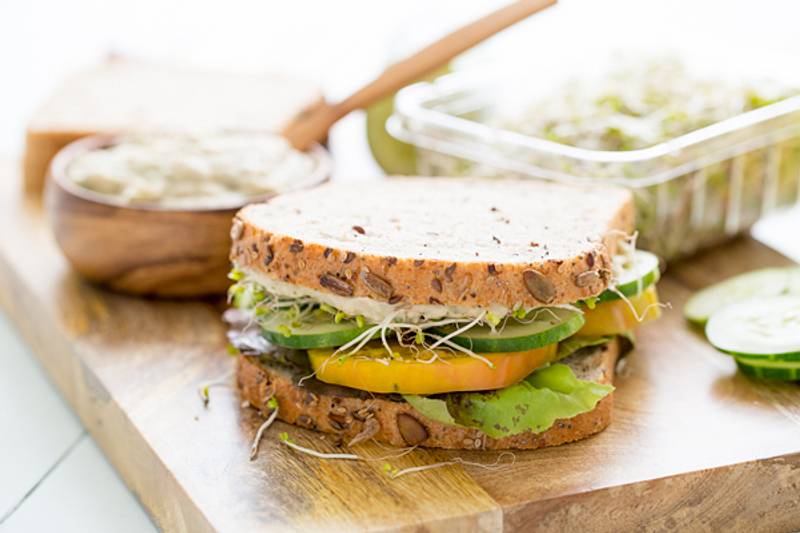 Basil White Bean Dip + Sandwich Spread (Overcoming MS Diet Inspired Recipe Analysis)
A flavorful dip or sandwich spread made with cannellini beans, basil, and garlic.
Full recipe at ohmyveggies.com
Ingredients
keyboard_arrow_down
1 1/2 cups cooked cannellini beans (or about 1 can), rinsed
1.5 cup (300g) Cannellini Beans

Daily Limits
saturated fat
0g of 3g (0%)
Ingredients
BEANS, WATER, SALT.
May not be a complete representation of the selected category.
keyboard_arrow_down
1/4 cup packed fresh basil leaves
0.25 cup (11g) Basil, Fresh

Daily Limits
saturated fat
0.004g of 3g (0%)
keyboard_arrow_down
1 clove garlic
1 clove (3g) Garlic, Raw

Daily Limits
saturated fat
0.003g of 3g (0%)
keyboard_arrow_down
2 tablespoons extra-virgin olive oil
2 tbsp (27g) Oil, Olive, Salad Or Cooking

Daily Limits
saturated fat
3.7g of 3g (124%)
keyboard_arrow_down
1 tablespoon fresh lemon juice
1 tbsp (15g) Lemon Juice, Raw

Daily Limits
saturated fat
0.006g of 3g (0%)
keyboard_arrow_down
1/4 tsp Salt
0.25 tsp (1.5g) Salt, Table

Daily Limits
saturated fat
0g of 3g (0%)
keyboard_arrow_down
1/4 tsp pepper to taste
0.25 tsp (0.57g) Spices, Pepper, Black

Daily Limits
saturated fat
0.008g of 3g (0%)