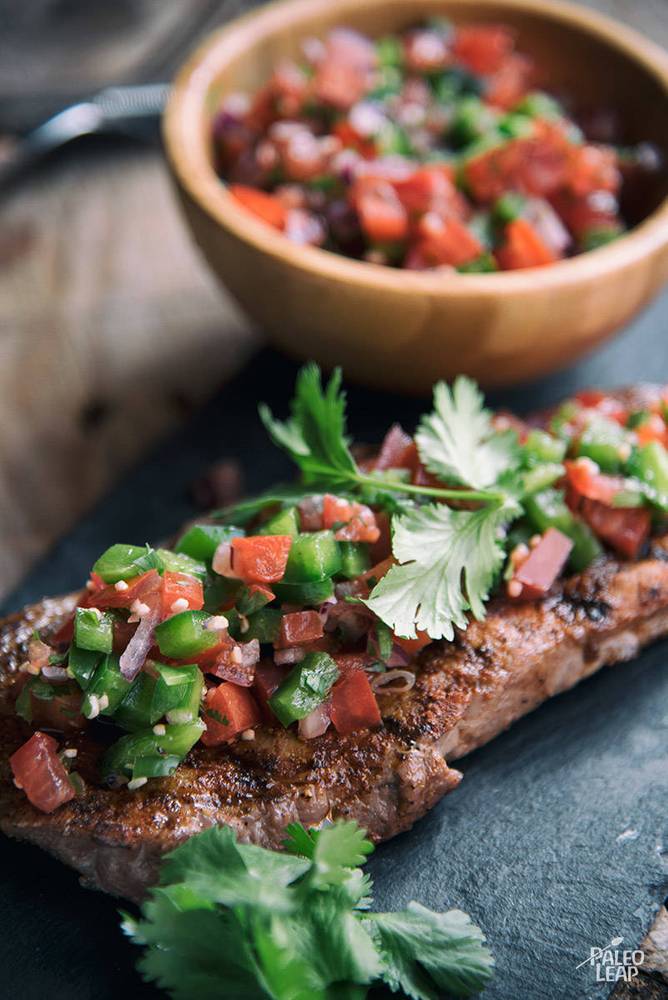 Pico de Gallo with Chili-Spiced Grilled Steak (Gluten-Free Recipe Analysis)
Let's try a twist on sirloin steak by grilling things up and serving with a delicious homemade pico de gallo.
Full recipe at paleoleap.com
Ingredients
keyboard_arrow_down
½ tbsp. paprika
0.5 tbsp (3.4g) Spices, Paprika

keyboard_arrow_down
1 tsp. garlic powder
1 tsp (3.1g) Spices, Garlic Powder

keyboard_arrow_down
1/4 tsp Sea salt
0.25 tsp (1.5g) Salt, Table

keyboard_arrow_down
1/4 tsp freshly ground black pepper
0.25 tsp (0.57g) Spices, Pepper, Black

keyboard_arrow_down
4 sirloin steaks
4 PIECE (392g) Sirloin Philly Steak

Ingredients
BEEF SIRLOIN, SEASONING [SALT, DRIED GARLIC AND ONION, SPICES, MALTODEXTRIN, NATURAL CITRUS FLAVOR (CORN SYRUP SOLIDS, NATURAL FLAVORING)].
May not be a complete representation of the selected category.
keyboard_arrow_down
2 tbsp. fresh lime juice
2 tbsp (30g) Lime Juice, Raw

keyboard_arrow_down
1/4 tsp. cumin
0.25 tsp (0.53g) Spices, Cumin Seed

keyboard_arrow_down
1/4 tsp Sea salt
0.25 tsp (1.5g) Salt, Table

keyboard_arrow_down
1/4 tsp freshly ground black pepper
0.25 tsp (0.57g) Spices, Pepper, Black

keyboard_arrow_down
1 tsp. onion powder
1 tsp (2.4g) Spices, Onion Powder

keyboard_arrow_down
2 garlic cloves, minced
2 clove (6g) Garlic, Raw

keyboard_arrow_down
1 tsp. ground cumin
1 tsp (4g) Ground Cumin

keyboard_arrow_down
¼ cup fresh cilantro, roughly chopped
0.25 cup (4g) Coriander (cilantro) Leaves, Raw

keyboard_arrow_down
2 tbsp. chili powder
2 tbsp (16g) Spices, Chili Powder

keyboard_arrow_down
1 jalapeno, seeded and diced
1 pepper (14g) Peppers, Jalapeno, Raw

keyboard_arrow_down
1/4 tsp ½ green bell pepper, diced
0.25 tsp (0.78g) Peppers, Sweet, Green, Raw

keyboard_arrow_down
1/2 red onion, diced
0.5 medium (2-1/2" dia) (55g) Onions, Raw

keyboard_arrow_down
2 medium tomatoes, seeded and diced
2 medium whole (2-3/5" dia) (246g) Tomatoes, Red, Ripe, Raw, Year Round Average