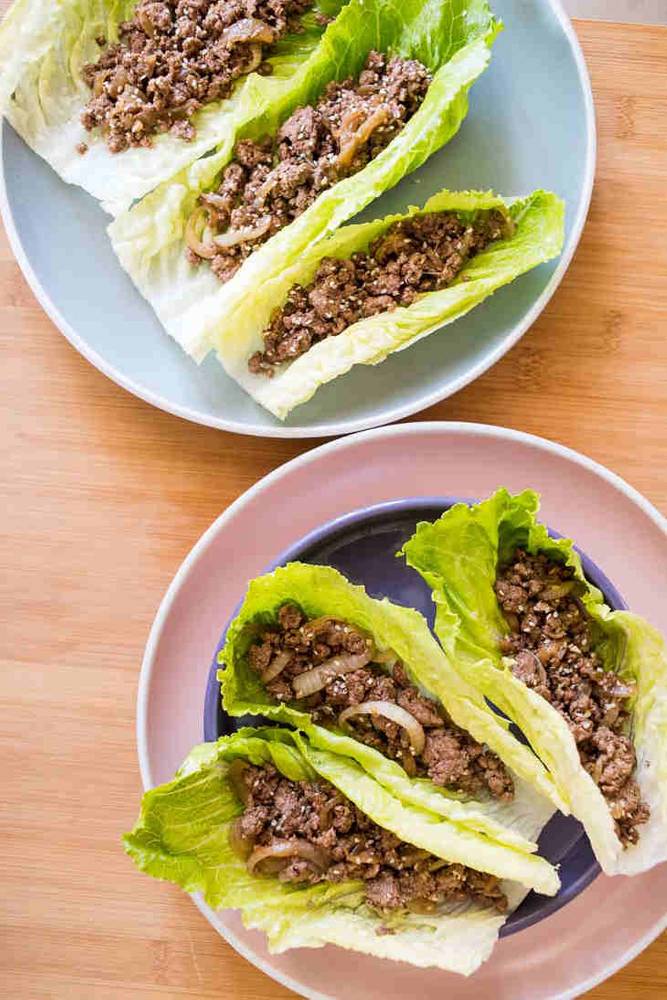 Keto Asian Ground Beef Lettuce Wraps (Low Starch Gluten Free Recipe Analysis)
These delicious wraps are versatile and yummy in any situation.
Full recipe at ketosummit.com
Ingredients
keyboard_arrow_down
12-16 leaves of lettuce (iceberg, romaine, or butter lettuce)
12 leaf inner (72g) Lettuce, Cos Or Romaine, Raw

keyboard_arrow_down
1 lb (450 g) ground beef
1 lb (454g) Beef, Grass-fed, Ground, Raw

keyboard_arrow_down
2 Tablespoons (30 ml) avocado oil, to cook with
2 tbsp (28g) Oil, Avocado

keyboard_arrow_down
1/2 onion, sliced
0.5 medium (2-1/2" dia) (55g) Onions, Raw

keyboard_arrow_down
1/4 cup (60 ml) tamari sauce
0.25 cup (68g) Tamari Sauce

Daily Limits
starchestimated
4g+ of 5g (80%+)
Ingredients
Ingredients: Water, Organic Soybean, Salt, Organic Alcohol (to Preserve Freshness).
May not be a complete representation of the selected category.
keyboard_arrow_down
1 Tablespoon (15 ml) apple cider vinegar
1 tbsp (15g) Vinegar, Cider

Daily Limits
starchestimated
0.08g of 5g (2%)
keyboard_arrow_down
2 teaspoons (10 ml) sesame oil
2 tsp (9.1g) Oil, Sesame, Salad Or Cooking

keyboard_arrow_down
2 cloves of garlic, peeled and minced
2 clove (6g) Garlic, Raw

Daily Limits
starchestimated
1.8g of 5g (36%)
keyboard_arrow_down
2 teaspoons (4 g) ginger powder
4 g (4g) Ginger Root, Raw

Daily Limits
starchestimated
0.56g of 5g (11%)
keyboard_arrow_down
2 teaspoons (9 g) sesame seeds
9 g (9g) Seeds, Sesame Seed Kernels, Dried (decorticated)

Daily Limits
starchestimated
0g of 5g (0%)