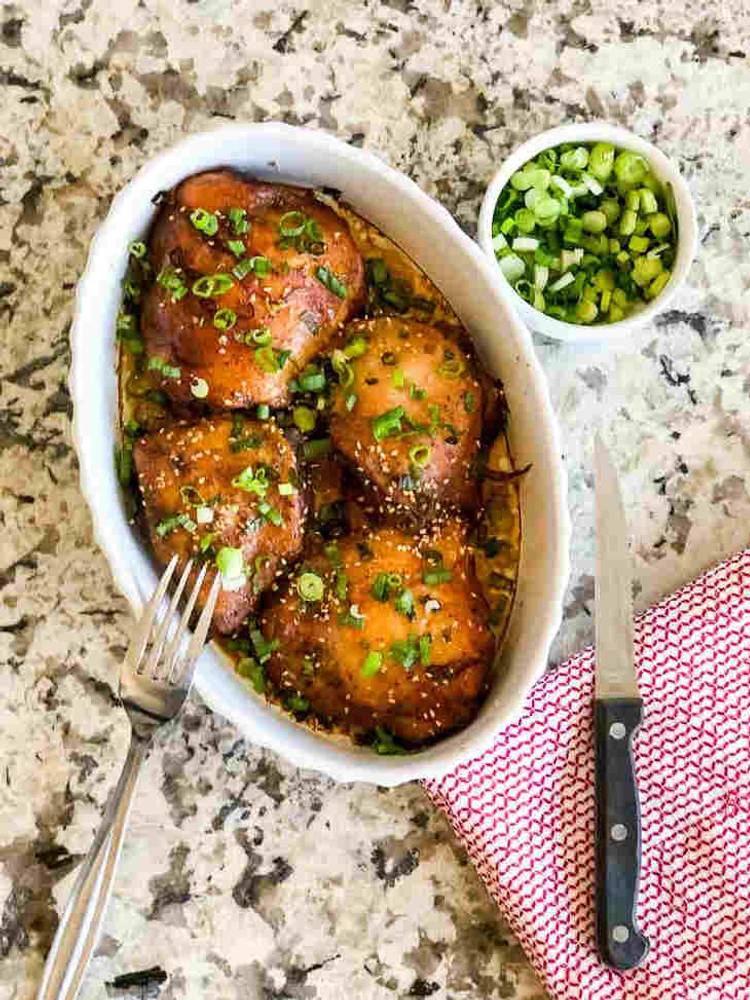 Asian Keto Crockpot Chicken Thighs (Gluten-Free Nightshade-Free Recipe Analysis)
Keto Chinese for dinner when you walk in the door.
Full recipe at ketosummit.com
Ingredients
keyboard_arrow_down
8 chicken thighs (with skin on)
8 thigh with skin (1544g) Chicken, Broilers Or Fryers, Thigh, Meat And Skin, Raw

keyboard_arrow_down
1/2 onion, sliced
0.5 medium (2-1/2" dia) (55g) Onions, Raw

keyboard_arrow_down
1/2 cup (120 ml) tamari sauce
0.5 cup (136g) Tamari Sauce

Ingredients
INGREDIENTS: WATER, ORGANIC SOYBEAN, SALT, ORGANIC ALCOHOL (TO PRESERVE FRESHNESS).
May not be a complete representation of the selected category.
keyboard_arrow_down
1/4 cup (60 ml) water
0.25 cup (59g) Beverages, Water, Tap, Drinking

keyboard_arrow_down
4 cloves garlic, minced
4 clove (12g) Garlic, Raw

keyboard_arrow_down
1/4 tsp Salt
0.25 tsp (1.5g) Salt, Table

keyboard_arrow_down
1/4 tsp pepper, to taste
0.25 tsp (0.57g) Spices, Pepper, Black

keyboard_arrow_down
1 green onion, chopped for garnish
1 medium (4-1/8" long) (15g) Onions, Spring Or Scallions (includes Tops And Bulb), Raw

keyboard_arrow_down
1 teaspoon (5 g) sesame seeds, for garnish
5 g (5g) Seeds, Sesame Seed Kernels, Dried (decorticated)