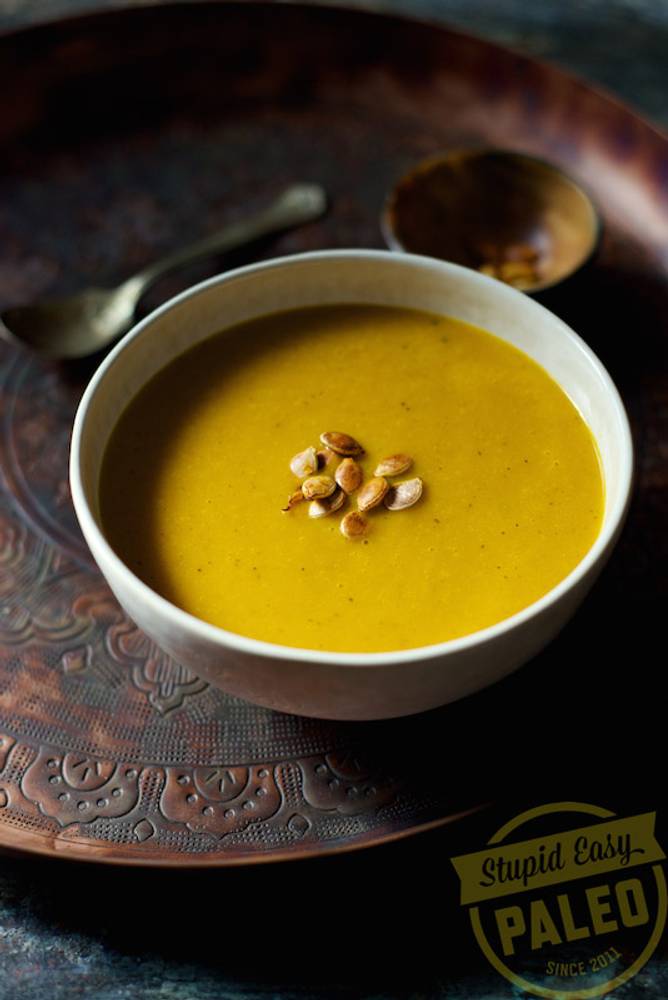 Curried Kabocha Squash Soup(Paleo, Whole30) (Gluten-Free Recipe Analysis)
Make this delicious, dairy-free, Paleo, Whole30 Curried Kabocha Squash Soup! Healthy and warming!
Full recipe at www.stephgaudreau.com
Ingredients
keyboard_arrow_down
3 lb kabocha squash
3 lb (1361g) Squash, Winter, Butternut, Raw

keyboard_arrow_down
1 tbsp coconut oil
1 tbsp (14g) Oil, Coconut

keyboard_arrow_down
1/2 tsp sea salt
0.5 tsp (3g) Salt, Table

keyboard_arrow_down
1/4 tsp black pepper
0.25 tsp (0.57g) Spices, Pepper, Black

keyboard_arrow_down
3-1/2 cups chicken broth
3.5 cup (872g) Soup, Chicken Broth, Ready-to-serve

keyboard_arrow_down
1/4 cup coconut milk (full-fat)
0.25 cup (60g) Nuts, Coconut Milk, Raw (liquid Expressed From Grated Meat And Water)

keyboard_arrow_down
1 tsp hot curry powder
1 tsp (2g) Hot Curry Powder

Ingredients
ALL NATURAL RED CHILI PEPPERS, CORIANDER GARAM MASALA (SPICES), ONION, GARLIC, TURMERIC, GINGER, MUSTARD SEEDS, BLACK PEPPER, KERALA CURRY SPICE BLEND (NO ADDED SALT)
May not be a complete representation of the selected category.
keyboard_arrow_down
1/4 tsp Sea salt (to taste)
0.25 tsp (1.5g) Salt, Table