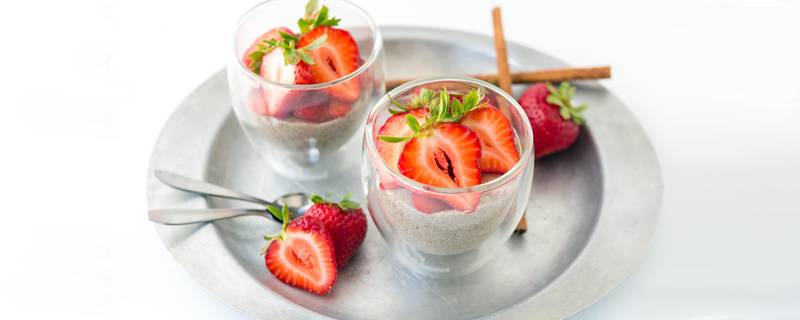 Chia Pudding with Strawberries (Low Starch Vegan Recipe Analysis)
Just a little bit of maple syrup, vanilla, and cinnamon make this simple chia puddingtotally delicious. Sliced fresh strawberries add bright color and flavor, but just about any fresh fruit would work well with this dessert. First, in a blender or food processor combine the almond milk, chia seeds...
Full recipe at www.forksoverknives.com
Ingredients
keyboard_arrow_down
1 cup unsweetened almond milk
1 cup (262g) Beverages, Almond Milk, Unsweetened, Shelf Stable

keyboard_arrow_down
2 tablespoons pure maple syrup
2 tbsp (40g) Syrups, Maple

Daily Limits
starchestimated
2.6g of 5g (53%)
keyboard_arrow_down
¼ cup chia seeds
0.25 cup (45g) Chia Seed

Daily Limits
starchestimated
1.6g of 5g (32%)
Ingredients
CHIA SEED
May not be a complete representation of the selected category.
keyboard_arrow_down
1 cup strawberries, sliced into ½-inch pieces
1 cup (152g) Strawberries, Raw

keyboard_arrow_down
½ teaspoon vanilla extract
0.5 tsp (2.1g) Vanilla Extract

Daily Limits
starchestimated
0g of 5g (0%)
keyboard_arrow_down
½ teaspoon ground cinnamon
0.5 tsp (1.3g) Spices, Cinnamon, Ground

Daily Limits
starchestimated
0.33g of 5g (7%)