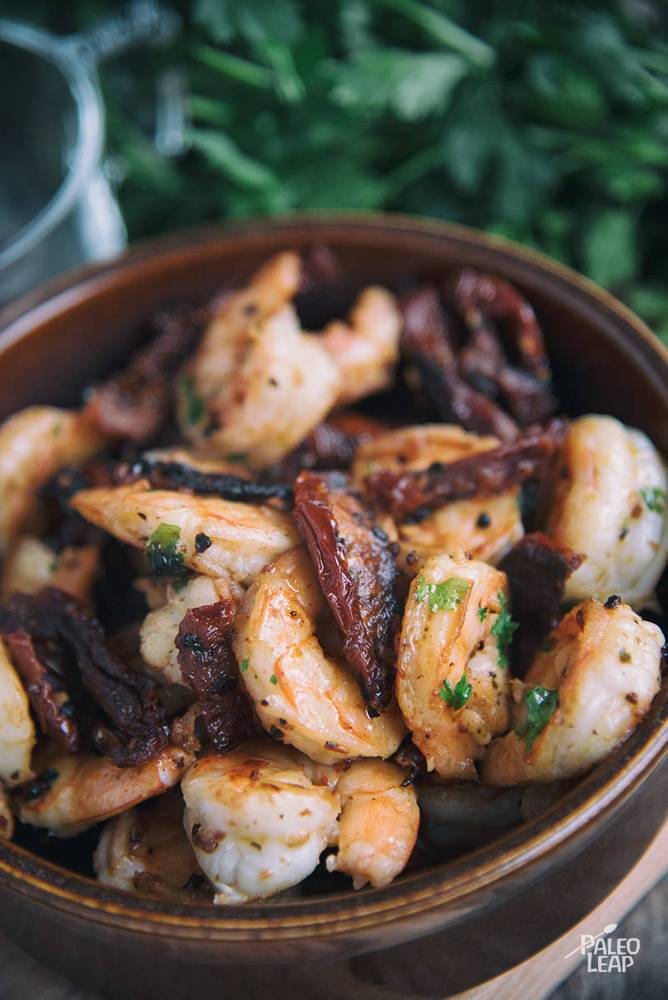 Spicy Shrimp And Sun-Dried Tomatoes (Keto Recipe Analysis)
This spicy shrimpis easy to pull together and works well with a ton of different side options, giving you needed versatility in your meal.
Full recipe at paleoleap.com
Compliance
Based on the Keto way of eating preset. View more Keto recipes.
Daily Limits
net carbs
16g of 15g (105%)
Daily Goals
total fat
55g of 100g (55%)
Ingredients
keyboard_arrow_down
1 lb. shrimp, peeled and deveined
1 lb (454g) Raw Peeled & Deveined Shrimp

Ingredients
FARM RAISED SHRIMP, SALT, SODIUM TRIPOLYPHOSPHATE TO RETAIN MOISTURE CONTAINS SHRIMP
May not be a complete representation of the selected category.
keyboard_arrow_down
1/4 cup olive oil
0.25 cup (54g) Oil, Olive, Salad Or Cooking

Daily Goals
total fat
54g of 100g (54%)
keyboard_arrow_down
4 garlic cloves, minced
4 clove (12g) Garlic, Raw

Daily Limits
net carbs
3.7g of 15g (25%)
Daily Goals
total fat
0.06g of 100g (0%)
keyboard_arrow_down
2 tsp. chili flakes
2 tsp (4.8g) Red Chili Flakes

keyboard_arrow_down
1 tbsp. fresh parsley, minced
1 tbsp (3.8g) Parsley, Fresh

Daily Limits
net carbs
0.11g of 15g (1%)
Daily Goals
total fat
0.03g of 100g (0%)
keyboard_arrow_down
1/4 tsp Sea salt
0.25 tsp (1.5g) Salt, Table

keyboard_arrow_down
1/4 tsp freshly ground black pepper
0.25 tsp (0.57g) Spices, Pepper, Black

Daily Limits
net carbs
0.22g of 15g (1%)
Daily Goals
total fat
0.02g of 100g (0%)
keyboard_arrow_down
1/2 cup sun-dried tomatoes, sliced
0.5 cup (27g) Tomatoes, Sun-dried

Daily Limits
net carbs
12g of 15g (78%)
Daily Goals
total fat
0.8g of 100g (1%)