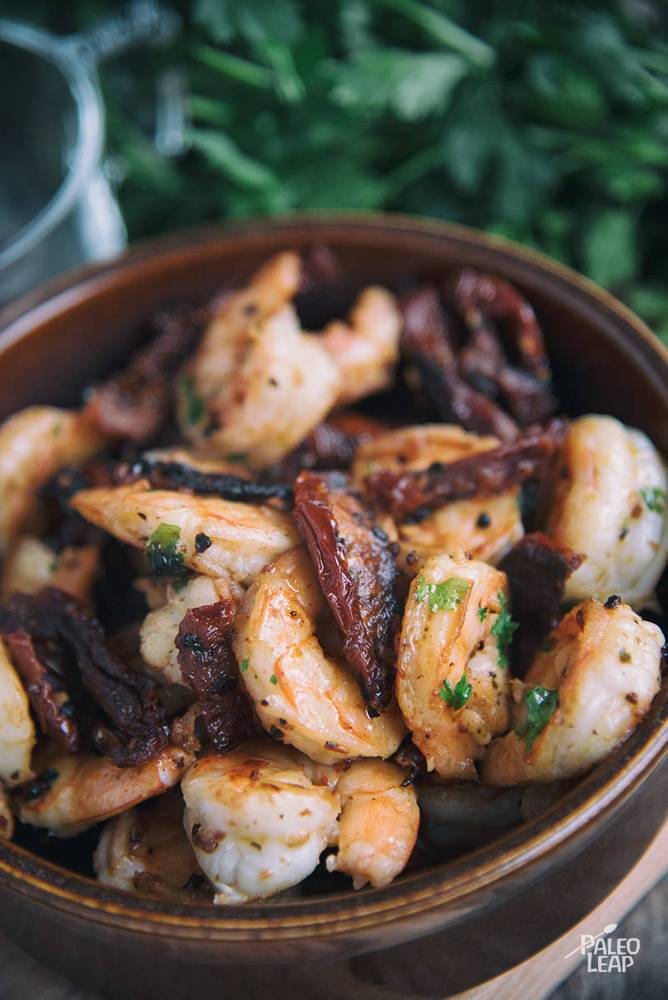 Spicy Shrimp And Sun-Dried Tomatoes (Low Starch Recipe Analysis)
This spicy shrimpis easy to pull together and works well with a ton of different side options, giving you needed versatility in your meal.
Full recipe at paleoleap.com
Ingredients
keyboard_arrow_down
1 lb. shrimp, peeled and deveined
1 lb (454g) Raw Peeled & Deveined Shrimp

Ingredients
FARM RAISED SHRIMP, SALT, SODIUM TRIPOLYPHOSPHATE TO RETAIN MOISTURE CONTAINS SHRIMP
May not be a complete representation of the selected category.
keyboard_arrow_down
1/4 cup olive oil
0.25 cup (54g) Oil, Olive, Salad Or Cooking

keyboard_arrow_down
4 garlic cloves, minced
4 clove (12g) Garlic, Raw

Daily Limits
starchestimated
3.6g of 5g (72%)
keyboard_arrow_down
2 tsp. chili flakes
2 tsp (4.8g) Red Chili Flakes

keyboard_arrow_down
1 tbsp. fresh parsley, minced
1 tbsp (3.8g) Parsley, Fresh

Daily Limits
starchestimated
0.08g of 5g (2%)
keyboard_arrow_down
1/4 tsp Sea salt
0.25 tsp (1.5g) Salt, Table

keyboard_arrow_down
1/4 tsp freshly ground black pepper
0.25 tsp (0.57g) Spices, Pepper, Black

Daily Limits
starchestimated
0.22g of 5g (4%)
keyboard_arrow_down
1/2 cup sun-dried tomatoes, sliced
0.5 cup (27g) Tomatoes, Sun-dried

Daily Limits
starchestimated
1.6g of 5g (32%)